Affectionate birdsongs
I hear there are people who get mad about them birds. I cannot agree on that.
Article pubilshed on 2020/03/29
This post is assigned to the categories: Documentation, Favorites, Nature shots

You know this situation? It is early in the morning on a weekend, you've had a tough week. Actually you should get up, at least if it was up to your alarm clock, but in bed it is so cushy and comfortable. Instead you stay lying there and listen to the sounds that come in from outside because the windows are open.
Don't worry, I'm not going for annoying leaf blowers or those construction site noises. I'm talking about both beautiful and exquisite birdsongs, of course.
I could listen to the chirping of birds for hours, mostly in the scenario described.
A quick question: How's that working for you?
I hear there are people who get mad about birds. The same people must also come from town and prefer the sounds of leaf blowers and construction sites.
Just kidding.
In addition to that, there is a nice story to tell about the following picture.
You remember, this was the intention of this website: I want to write about the creation of photographs or anecdotes connected to them.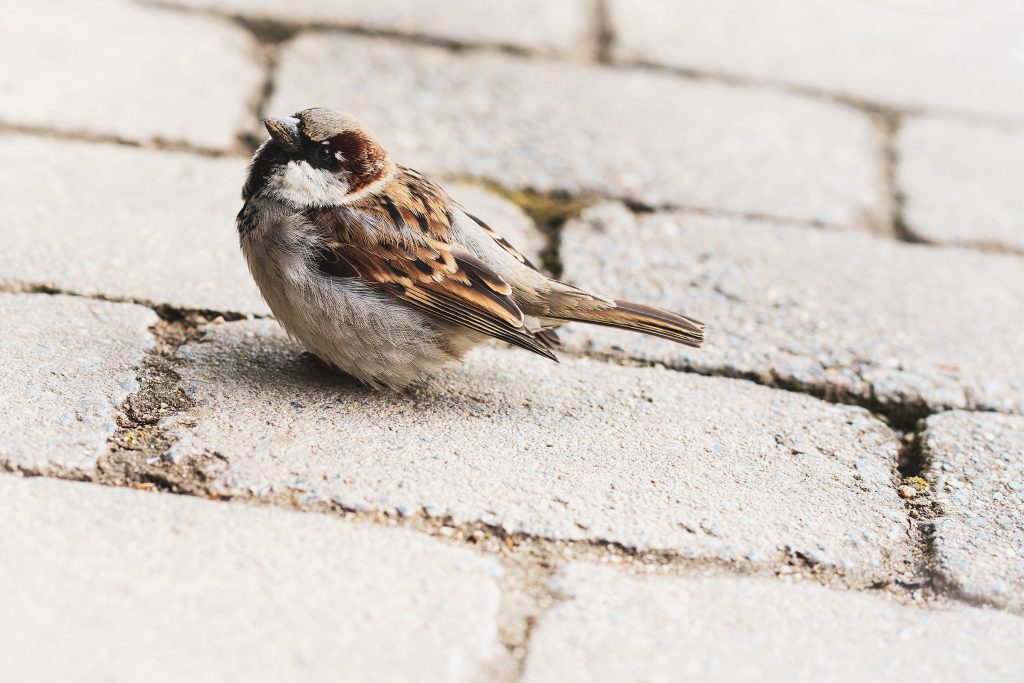 It was a sunny day, we had our backpacks filled with supplies on our shoulders.
A quick side note: Just because this has been mentioned several times before, we are no nerds at all. You better believe that and take it for granted.
Whatever. Eventually we had our first rest after spending the whole morning in an animal park. No sooner had we unpacked our food than the time had come:
A swarm of small house sparrows with at least 20-30 individuals suddenly appeared.
They seemed to be used to the presence of humans, as trusting as they were. At first they held back a little, but then they came closer and closer.
Fortunately, I had the camera at hand and was able to take a lot of beautiful pictures without any hurry. I even had the feeling that those little fellows really enjoyed the session.
Some of them were even too close to me, so that I could not take pictures. The 85mm focal length has a close-up limit of about one meter, only then I get them motives in focus.
A problem one rather seldom has with these birds.
Some of them have scurried through our legs. I have fond memories of the spectacle.
So much for the tale.
A few months ago there was an article with a similar content: I had a visit from a small individual without me even knowing. Take a look in there too.
I wish y'all the best for that particular moment in the world and most of all good health.