Them woods and the wanderlust
We got out of our car and entered another world. Like going through a portal.
Article pubilshed on 2020/03/07
This post is assigned to the categories: Black and white, Documentation, Favorites, Nature shots

Hiking. Hiking. Hiking. Hiking.
The alarm clock rings early in the morning and I can feel the excitement so close before our upcoming adventure. Them backpacks are already packed with food and supplies. Them batteries of the camera have been charged, lenses are chosen, a second SD card is in place, all preparations have been made. The route is in our heads.
What can go wrong.
Hiking. Hiking. Hiking. Hiking. All we can think about is hiking.
We eat at the breakfast table with half the outfit on, but nothing special, we are on the move after all. Breakfast is indeed important on such days, but we do not want to waste time either.
The coffee that is usually served for breakfast as a tradition is today, as an exception, poured into a thermos bottle for drinking on the trail. It is about to start now.
Hiking. Hiking. Hiking. Hiking.
We get out of the car and enter another world. Like going through a portal.
Things are so different all of a sudden. The hustle and bustle of day-to-day life has vanished altogether. We're the only people in the parking lot. The whole day lies at our feet.
With our backpacks strapped on we start the hike up into the forest.
Hiking. Hiking. Hiking. Hiking.
After we have walked through the morning mist, we notice intense smells:
Forest soil, pine needles. Besides, it's so quiet.
You cannot hear a single thing except your own breath, because the ascent was quite tough. It was tough, but not exhausting. We perceive ourselves much better up here in nature anyways.
This is due to the fact that most of the usual disturbing factors are switched off. Thoughts don't float around all the time. We're in the moment.
Hiking. Hiking. Hiking. Hiking.
Now we've been at it for quite a while and it's time for a break. While we pass our coffee cup steaming in the cooling air back and forth, we look behind.
It is nuts, what distance we've covered.
And although we have carried our provisions around all day, we have no complaints whatsoever:
Neither the neck nor the back is complaining. Kind of a contradiction when thinking about it.
We air out our shoes and get back on the track.
Hiking. Hiking. Hiking. Hiking.
I walk through the world with a different view, because I am looking for beautiful motifs. And they're all over the place, wherever I look. It is so nice to take some photographs again.
At the same time I am a bit sad that I otherwise find so little time for it. The camera feels so comfortable in my grips now.
Hiking. Hiking. Hiking. And again Hiking.
After a proud amount of time the tour is over. We arrive back at our car. We are totally depleted, but in a super satisfying and rewarding way.
In the moment we get back into the car, we unfortunately enter the portal again.
It was a beautiful experience, a beautiful day, but now the everyday life will consume us anew.
Hiking. Hiking. Hiking. Hiking. I can't wait to get back to it again.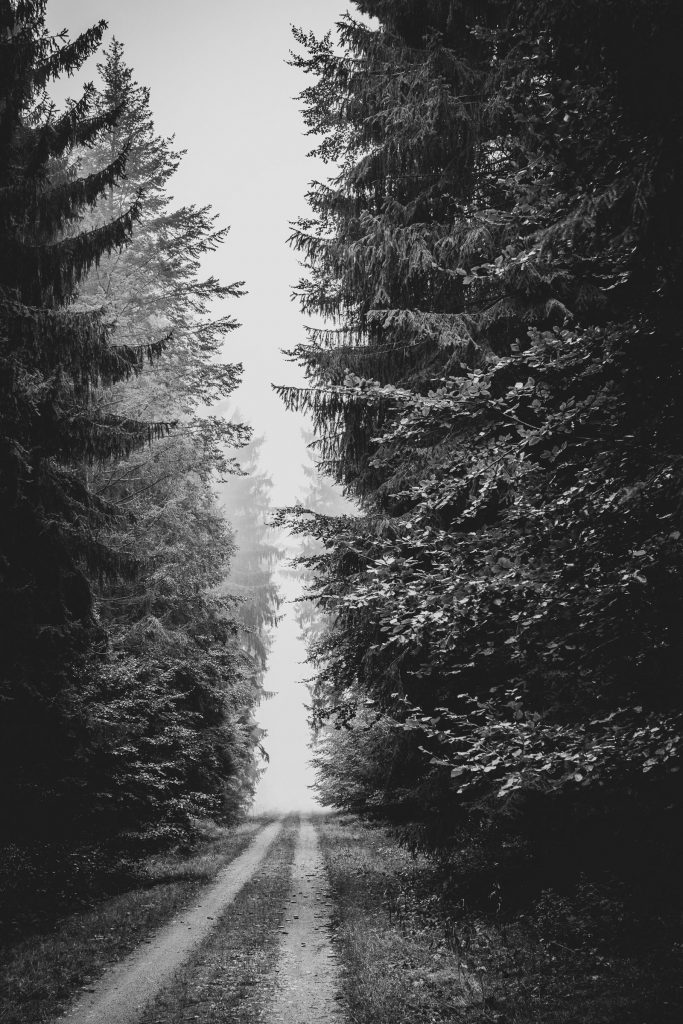 Follow this trustful link to find more pictures that we have collected here and there in the woods during our hikes. In fact I recommend to follow the link.
You'd be missing something gorgeous, and no one wants that for you.
Also a huge thanks to Manfred and Simone, you are the professionals.
I liked the brainstorming in particular. Manfred, you freaking son of a poet. Walking through a portal? What a tremendous enrichment. Nos vemos, hermano.