The wedding photographer's insights
Both workflow and gear have to be positioned professionally to meet expectations.
Article pubilshed on 2022/03/17
This post is assigned to the categories: Black and white, People and creative portraits

Oh dear, there has been no post published for almost two months now. But please do not be sad. Things're going to be good again.
When I fell down as a child and hurt them knees or something, I was always told those great words, which by the way didn't soothe me at all in the moment because I didn't understand them: Until you're married things will be good again.
In the meantime, these words are no longer valid for me, but I can now give them to my daughter, which is wonderful.
I mean, a father needs to prepare awesome dad jokes, right? You know jokes like: I don't trust stairs. They're always up to something. Pweh.
Enough of that bogus!! Speaking of weddings:
A wedding is a unique and quite exciting adventure. A new chapter begins in this life of two people, who decided to support and take care of each other in future.
At some point both bride and groom and those who are involved also face expectations during the process. I've written a detailed article on that particular topic.
Photographers and their whole setup for instance have to be positioned very professionally.
Wedding photography includes all different types of photography wrapped up in one single day: Details and close-up shots need to be taken, as well as architectural pictures of the location. Of course, we don't want to forget the bride and groom and their guests. Besides portraits, howsoever, group pictures are also required.
If this weren't high requirements already, poor lighting conditions also have to be taken into account. Lenses need to cover them situations too.
You don't have to be a photographer to understand that the costs for such gear're very high.
But the real escalation begins with fail-safe redundancies: This best equipment is of no use if it should fail. Did I mention that weddings are unique and emotionally charged?
You cannot afford to fail here: Your camera needs a backup. Your most important lens needs a backup.
And what good is the best camera if its SD card fails? Yup, you can't skimp here either. Professional-level cameras have two SD card slots.
Some pros make on-site data backups of the cards to tuck them away in another spot.
All efforts for the one perfect day.
But the work does not end after the day of all days: A small selection of the pictures should at best already be provided the next days.
To achieve this, the photographer needs a good post-processing workflow. Thousands of images need to be culled and sorted out quickly. You read correctly, thousands of images. Machine gun mode is needed when important moments happen that you must not miss.
In the end, the remaining pictures also want to be edited. First they are processed raw, afterwards, if desired, a little more granular with different tools.
Maybe now you understand why a reliable and professional photographer costs some euro-bills?? Reasonable in my opinion.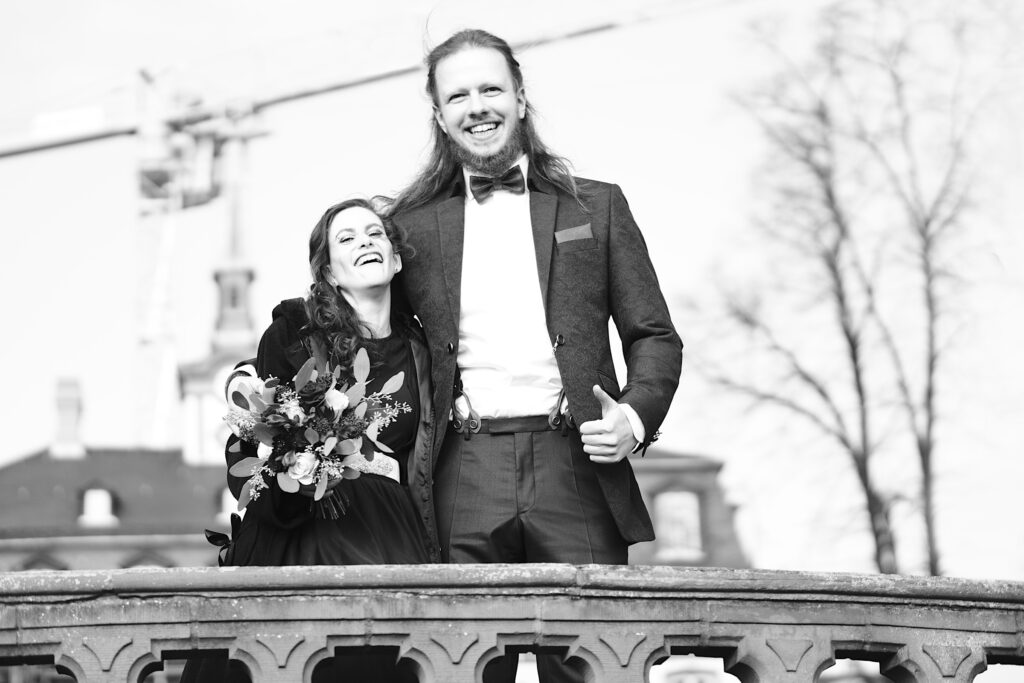 I look like the greatest wedding photographer of all times, right? Well, I tend to avoid such mandates.
I don't want to acquire the necessary equipment for the royal discipline of photography. Apart from this, I would then be broke. I prefer to appear unannounced with surprise effect, so I'm not under pressure. But only if there's no hired pros.
After the civil ceremony of my friends Lisa-Marie and Eike, which took place one day before their big wedding party, we could capture lovely pictures like the one above.
And as always, there is more to admire: We invite you to have a look at more impressions of that day in a gorgeous black and white gallery.
Dear Lisa-Marie and Eike, I again wish all the best for your marriage and future and thank you for this beautiful and spontaneous shooting!!
Dear reader!! You worked all your way through this everlasting article. Thank you so much for the time and attention. You'll receive a suitable appreciation from me here.